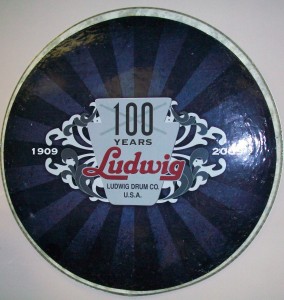 The Winthrop University percussion studio recently toured Ludwig Industries in Monroe, NC. I remember touring Ludwig when they were located on N. Damen Avenue in Chicago while attending graduate school at Northwestern University in 1976. In the early 1980s the entire facility was moved to North Carolina. Many of those old machines I saw in action at the Damen Avenue facility are still in use today. "We had some incredible engineers designing machines," said plant manager Jim Kinsey. "When we moved to Monroe, we figured 'if it ain't broke, don't fix it,' so we've just kept using those great old machines."
Some little-known facts I learned on this tour:
Since there is such limited demand for 20″ fiberglass timpani, they don't use a mold for the 20″ drums. If you order a complete five-drum set of fiberglass timpani, the 20″ will be made of aluminum and painted the same copper color. The original color of the fiberglass is whitish grey, and the original color of the aluminum is a dull silver.
It takes two hours of sanding on a specially-designed machine to bring a copper timpani kettle to the mirror-like finish we are accustomed to.
1 Comment