My Ph.D. dissertation from Michigan State University, The Early Percussion Music of John Cage:1935-1943, is available for Free Download on my website! Here's what Robin Engelman says about it:
"If you are searching for clear, authoritative insights into Cage's early works for percussion, you should read B. Michael Williams' Ph.D. thesis, The Early Percussion Music of John Cage, 1935-1943. It is superb.This one handy text contains information gleaned from many sources and includes interviews of Cage by Dr. Williams. His meticulous analysis and thoughtful questions drew insights from Cage that lift veils of ambiguity and illuminate these seminal works for today's performers. For example, Cage's description of the thundersheets he used in First Construction (In Metal) is revelatory. It resolves irksome interpretive issues and alone is worth the price of the book. Much has been written about John Cage and, in my opinion, Dr. Williams' thesis should be on any essential list of reading for all percussionists; performers, teachers and students."
– Robin Engelman – Member of Nexus, The Percussive Arts Society Hall of Fame, Conductor/Director the University of Toronto Faculty of Music Percussion Ensemble, 1975-2007.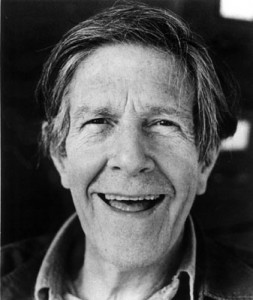 Just click on John Cage's smiling face here or on my homepage for an instant download.