The MbiraTab series of four volumes of mbira transcriptions in tablature notation are up on the Bachovich website (www.bachovich.com). I've prepared preview videos for each of the four volumes so folks can hear what each tune sounds like. Volumes 1 – 3 are for instruments in nyamaropa tuning (Mixolydian mode). Volume 4 is in gandanga tuning (Phrygian mode). Accompanying recordings for volumes 1-3 are done on an instrument pitched in B. Volume 4 recorded examples are in Bb gandanga tuning.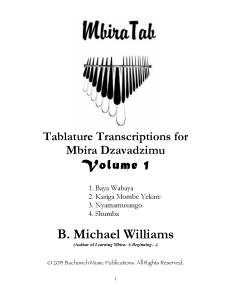 Volume 1 features Baya Wabaya, Kariga Mombe YeKare, Nyamamusango, and Shumba.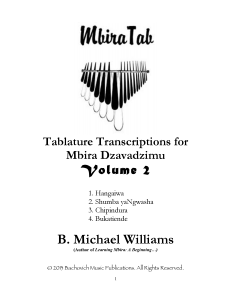 Volume 2 has transcriptions for Hangaiwa, Shumba, Chipindura, and Bukatiende.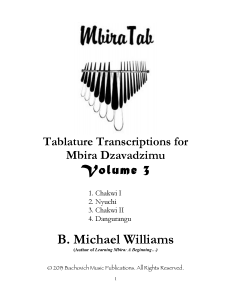 Volume 3 includes Chakwi I, Nyuchi, Chakwi II (Ephat Mujuru version), and Dangurangu (Ephat's version in nyamaropa tuning)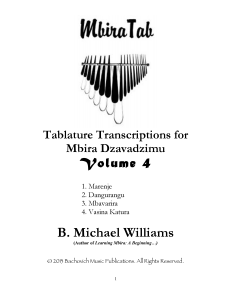 Volume 4 includes four tunes most closely associated with gandanga tuning: Marenje, Dangurangu, Mbavarira, and Vasina Katura.
These are great resources for delving into new repertoire for mbira. My students at Winthrop University have been learning some of these tunes and many have performed them on recitals! It's great to share this wonderfully deep music.